Enhanced durability with schomburgs crystalline products
Our innovative crystalline admixtures are present during the entire lifespan of the concrete. In fact, we have test reports that state that BETOCRETE is able to improve and expand the lifespan of your building. Our products are certified as concrete admixtures according to European standards, the BBA and the Dubai municipality.

Innovative products for sustainable protection of concrete solutions
We offer a full range of innovative products. SCHOMBURG offers liquid crystalline admixtures that have been certified as both a waterproofer and a plasticiser according to EN 934-2. Of course, we also offer our crystalline admixtures in powder form as well. Our products are compatible with all types of cement and are used worldwide.
Previous
Next
BETOCRETE - Crystalline Concrete Solutions
Which application are you interested in?
Productbenefits of BETOCRETE-C
Safer Concrete

Heals cracks of up to 0.4mm
Fills capillary pores with nano-crystals
Less capillary absorption under non-hydrostatic conditions

Increased lifespan

up to 40% less chloride migration
up to 50% less absorption in hydrostatic conditions
up to 50% less weathering in freeze-thraw environment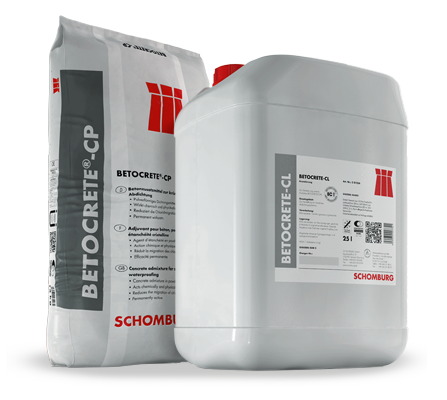 Explore our productgroups
BETOCRETE-C – The crystalline concrete waterproofing system
Join us on our tour into the world of concrete construction.
See how a waterproof concrete looks like and which further waterproofing solutions are needed for your project.